Updated Swimming Guidelines from the AAP: What You Need To Know
Health and Wellness, News, Survival Swim, Water Safety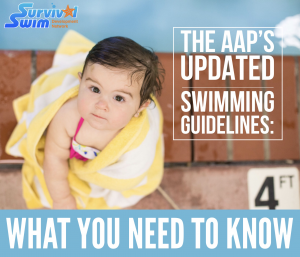 What the AAP Said
On March 15th, the American Academy of Pediatrics (AAP) made an important announcement updating the age at which children can benefit from swim lessons. "Research has found that swim lessons are beneficial for children starting around age 1, and may lower drowning rates", said Linda Quan, MD, FAAP, a co-author of the policy statement. This was monumental news since the AAP had previously held the view that the appropriate age to begin swim lessons was 4 years old.
"Drowning is the single leading cause of injury-related death among children ages 1 to 4," said Sarah Denny, MD, FAAP, lead author of the policy statement, Prevention of Drowning published online March 15, 2019, in Pediatrics.
Through this announcement, the AAP has addressed the elephant in the room in the swimming world; if drowning is the leading cause of death ages 1 to 4, why would we wait until the age of 4 to enroll our children in swim lessons?
What You Need to Know
Dr. Quan went on to recommend looking for "experienced, well-trained" instructors. The neighbor's daughter down the street teaching lessons out of her backyard may be sweet, but swim lessons is a life skill that is far too important to sign up for the most convenient or cheapest option. Backyard lessons can be viable, however, asking the appropriate questions and understand the strengths and weaknesses of the person or program you are entrusting your child's safety is essential.
A parent should also research the curriculum of the swim program they are considering. Many instructors are not equipped, nor do they even try to teach real swim skills before the age of 3 or 4. "Find a learn-to-swim program that teaches true survival skills, as well as builds the confidence of the child. Too many programs are splash-and-play for youngsters, helping them have fun in the water without giving them the skills necessary to survive an aquatic accident. The alternative is not good either, giving a child survival skills so aggressively that they develop a fear of water. It is important to find a program with a gentle approach that teaches life-saving skills," says Megan Bachman, President of the Survival Swim Development Network (SSDN) and Founder of Oklahoma Swim Academy.
Lastly, the format of swim lessons is important for younger ages. For older kids, group lessons can be a serviceable learning environment, but the younger a child is the more focused attention they really need to learn a skill. Even in small groups of 4 with kids rotating during a 30 minute group lesson, a child may only get 5-10 minutes of focused attention throughout the full lesson. Therefore, for infants and toddlers it is important to find a private lesson program if you are looking at swim lessons as more than a recreational activity.
Summary
In conclusion, regardless of who you choose to teach your children to swim, be sure you understand their level of training and experience, what they will teach (curriculum), and in which format the lessons will be taught. Since swim lessons are one of the primary ways to safeguard your family against drowning, watch your child's lessons closely to be sure the curriculum that was discussed is actually being taught and that your child is progressing through the program.