How Important is Choosing the Right Swim Instructor?
Pool Safety, Survival Swim, Water Safety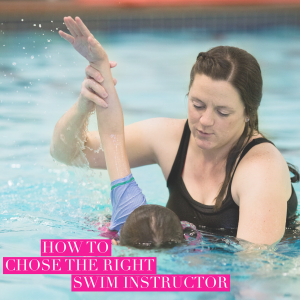 Is swimming really so difficult to learn that a child needs a professional to teach them? There are plenty of high school students that teach swim lessons out of neighborhood pools for almost nothing. Why should more money be spent, or more miles be driven, for formal swim lessons?
It is okay to cut corners on some youth sports, such as soccer and tee ball, so what's the difference with swim lessons? If your neighbor has an older child that used to play one of these sports and wants to help give a few pointers, go for it! However, they should not be responsible for your child's water safety without you asking them specific questions and knowing about their swim background. This goes for any swim program you are considering; it is crucial to know who they are and whether they are qualified to help keep your child safe.
The truth is, there is a huge difference between swimming and all other youth sports. While the purpose of those other sports is recreation, the ability to swim is about drowning prevention. Learning to swim can be the difference between life and death.
It is for this reason that you should leave swim instruction to trained and certified professionals. Swimming can come easily to some and challenging to others, but it is less about the difficulty of learning and more about the potential consequences of not learning correctly that makes this an area parents should carefully consider.
What factors should be considered knowing the seriousness of this decision? Too often, it seems that cheap prices, proximity, and fancy facilities are the main priorities for some parents when making this important decision. Sure, you can find great instruction in a nice facility that is close by, but the key is making sure that the main priority is the quality of the instruction and knowing how to identify it. You may find a state-of-the-art facility with all the bells and whistles, but that isn't going to matter if there are 12 kids in a class with an instructor that had only a few days of training with no prior experience.
Here is a list of the top 3 things to look for when selecting your swim instructor:
  1) Private Swim Lessons vs. Group Swim Lessons – The smaller the class size, the more focused attention the swimmer receives, so private lessons are king. 1-on-1 instruction allows swim lessons to be fully customizable to the skill level and learning style of the child, expediting the learning process.
  2) Training & Certifications – Find out what training potential instructors have had, how many in-water hours it consisted of, whether they are CPR certified, and what specific credentials they have to be a swim teacher.
  3) Goals of the Swim Lessons – Some swim schools charge a great deal of money for water acclimation for a 2 year old, while other schools can have them swimming across the pool at that age. Some swim schools splash and play with infants and toddlers, while others can gently teach them to rescue themselves if they were to fall in a pool. Know what you are paying for!
The selection of your swim lesson provider can be one of the most critical choices you make for your children. Please take the time to research swim schools in your area and choose the one that does the most for your family's safety around water.
Written by Brian Bachman
For a more detailed guide on swim instructor selection click here: How to Choose the Best Swim Instructor